Skalax®  and SeeRA™, barriers for packaging
Seelution have two series of renewable barriers, Skalax and SeeRA. Both are applied by dispersion coating and provide attractive performance and offer sustainable alternatives to the traditional plastic solutions, used individually or in combination.
Available for delivery in IBC containers (1000 kg) or bulk.
Features
* Approved for use in direct food contact
* Bio-based
* No fluorocarbons used
* Tailor-made heat sealability
* Water based / Solvent free
* Applied by dispersion coating
Skalax®
Skalax is a series of formulations based on polysaccharides in water. They provide an excellent barrier against Oxygen, Other gases, Aroma, Grease and Oil. The specific formulation will be tailored to the application, optimizing parameters such as viscosity, dry solids, water resistance and flexibility.
Looking to substitute EVOH or PVOH? Skalax® is a sustainable alternative with matching performance.
SeeRA™
SeeRA is based on vegetable wax in water and provide an excellent barrier against Water, Moisture, Grease and Oil. The formulation is tailored to meet the requirement of each application, optimizing parameters such as bio-content, barrier properties and heat seal.
Packaging with Skalax + SeeRA: Properties on a favourable substrate

Flexible packaging paper / coated paper board
Consumers' are increasingly favouring packaging that is sustainable. We work closely with packaging producers and help create new flexible barrier packaging and coated paper board utilising sustainable barrier materials. Together with our clients we tailor the formulations to suit each application.
Contact us for a discussion on your target specifications and other requirements.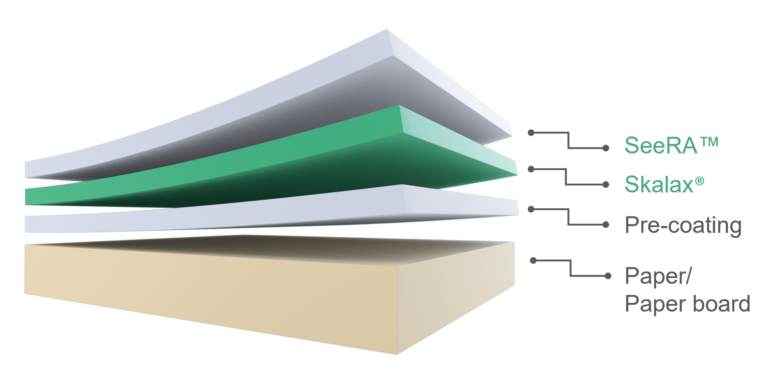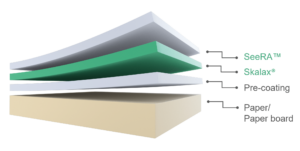 Features for packaging with Skalax and SeeRA™
* Made from renewable materials
* Recyclable packaging
* Approved for food contact
* Biodegradable/Compostable/Marine degradable
Make a barrier packaging that can be certified!